The brilliant idea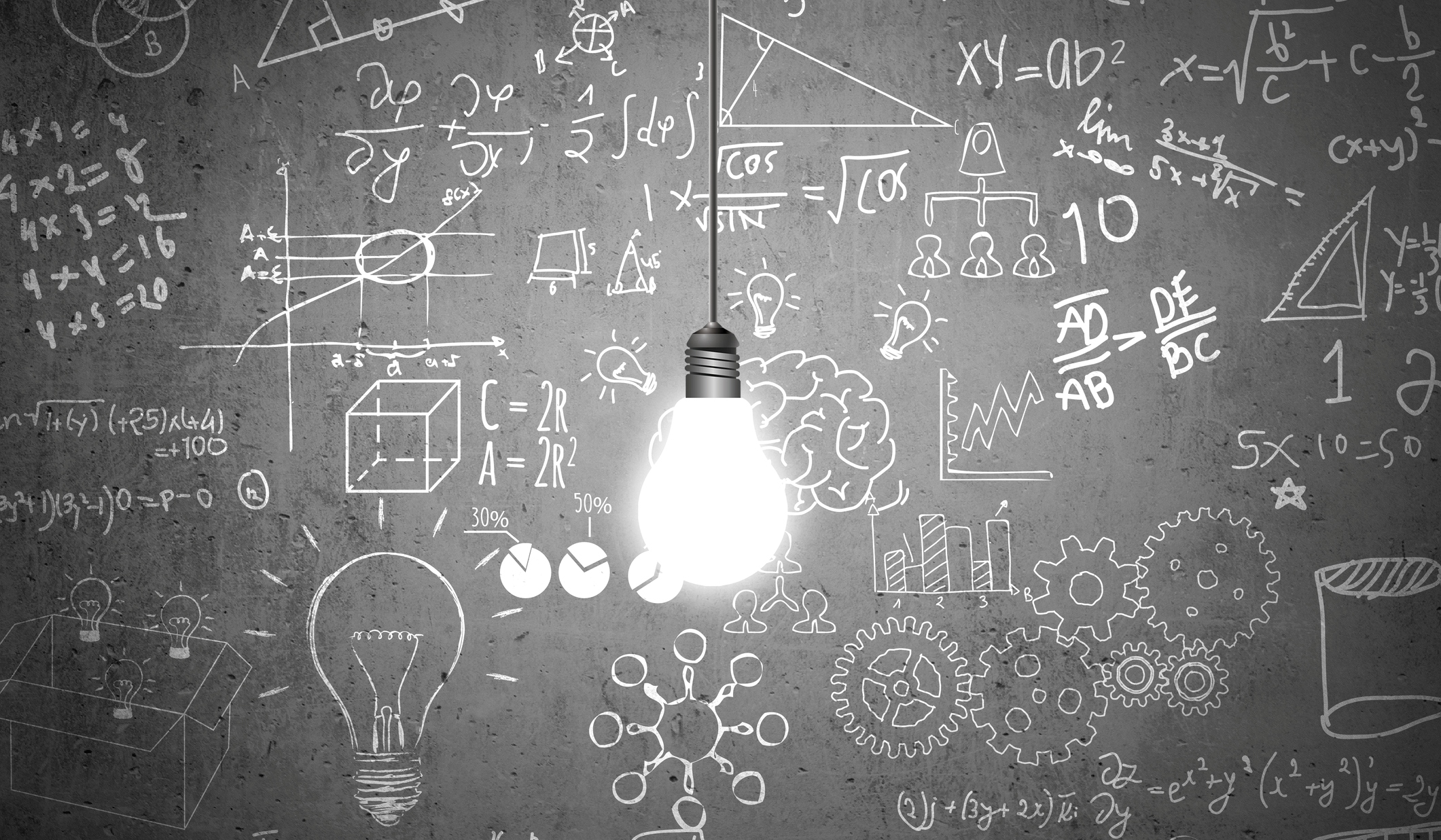 The brilliant idea is at the beginning of every project, even in the digital world. But there is also the danger that someone will steal the idea and realize it themselves. In order to prevent this and thus promote innovation, the four intellectual property rights – trademark, patent, design and copyright – enable a corresponding monopolisation. In addition to intellectual property law, unfair competition law (UCL) is also regularly applied. This protects against unfair competition in business transactions. In the case of patents, design and copyright, monopolisation is limited in time and trademark protection can be extended at will. One problem may be the fact that the rights mentioned do not protect the idea itself, but only (but at least!) its expression; as a two- or three-dimensional trademark, as a disclosed idea in the form of a patent specification, as a design and copyright in various forms, from art and literature to software. Ideas and concepts are protected, if at all, by the Unfair Competition Act (UCA). When presenting ideas and concepts, it is also advisable – if the partners accept this – to conclude confidentiality and non-utilisation agreements.
The most comprehensive portfolio of intellectual property rights possible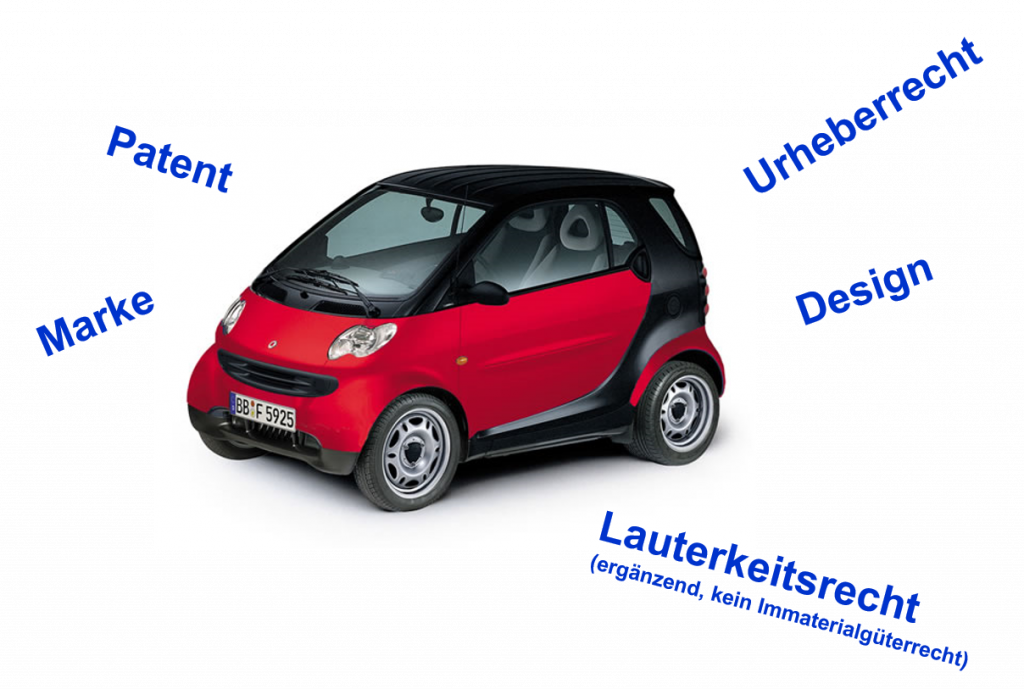 As part of a strategy, the aim should be to protect an innovation with as many as possible of the four intellectual property rights. It is not a question of enforcing all rights in the event of a conflict. Even without this goal, the rights are "sand in the works" of the competition and hinder it accordingly in the market.
Innovationsschutz ist Investitionsschutz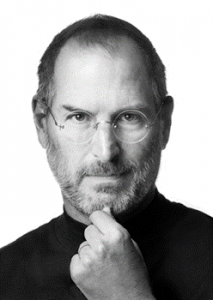 Steve Jobs says there would have been no incentive for Apple to develop new software and products if they hadn't been protected. As soon as intellectual property protection is no longer guaranteed, creative companies would disappear or not even be founded (Walter Isaacson, Steve Jobs, New York 2011). The protection of intellectual property is an investment protection for companies.
Copyright
Copyright protects products of literature and art, but also software, as long as they are new and show a high degree of originality. The latter is also the point that is most discussed in legal disputes. Copyright cannot protect what is functional about a product or what is common property, such as general shapes and colors. The great thing about copyright is that it does not have to be registered and offers worldwide protection. Copyright protection lasts up to 70 years after the death of the author.
Copyright protection of software
The software industry itself has ensured that every child today knows that software is protected by copyright through aggressive publicity. What the industry does not publish is that software is not telquel protected, but only if it has individuality or originality according to Art. 2 of the Swiss Copyright Act (CopA). What does this mean in concrete terms and what must one compare when it comes to the question of whether a software infringes the copyright of another software?
Software has to perform a certain task. The software on which this blog is based converts text entered in a tool (input) graphically so that it can be perceived in the corresponding blog on the Internet (output). The tools that perform these tasks in software are called algorithms. These algorithms or their programming must be sufficiently original according to Art. 2 URG. The majority of literature and jurisprudence assume that the degree of originality in software does not have to be particularly high, since the freedom of design for programmers is usually rather small. If algorithms are not banal, copyright protection tends to be assumed. However, algorithms that represent common property, i.e. that contain programming that must be usable by all, are not original. In language and graphics, for example, individual letters, generally used words (usually listed in the dictionary), general forms (especially circles and squares) and colours cannot be monopolized. Algorithms, whose solutions are obvious for an expert, are also not original in the sense of the law. When comparing software under copyright law, there are analogies to the comparison of patents or presumed patent infringing products with patents.
When the question arises whether one software violates the copyrights of the other software, the algorithms must be compared with each other. These are located in the source code of the software. For a software comparison it is therefore necessary that the source code of both software is disclosed. In a legal dispute, for example, an IT company or an IT expert can be appointed as trustee for the software comparison. The parties are thus denied access to each other's source code.
In the question of the originality of an algorithm, neither the idea behind it nor the concept is relevant, but only the programming.
When comparing software, which is usually also done using analysis software, the first step should be to check whether all or at least a large number of algorithms are identical or at least very similar. If this is the case, there is a high probability of copyright infringement. If this is not the case, the next step is to look for individual identical or at least very similar algorithms. As a result, the legal relevance of the algorithms must be examined in all cases (see above).
Already an identical or very similar algorithm can be sufficient for a copyright infringement.
If a software contains algorithms that are not legally relevant on their own (see above), a combination of such algorithms can still lead to copyright protection if the combination is original in the sense of the law. This would then be a protected collective work within the meaning of Art. 4 CopA.
Brand
A trademark is the name of a product and forms a bridge between the product and its manufacturer or the owner of the trademark. Anything that can be represented graphically and has a certain uniqueness can be protected as a trademark, even the shape of a product, but the latter must also achieve a certain degree of recognition. It is not possible to protect what is common property, such as general shapes and colours. Trademark registration is for 10 years and can be renewed every 10 years for a further 10 years.
Patent
A patent is a technical solution to a problem. It may be a product or a process. The corresponding innovation must be new, i.e. it must not be state of the art. The state of the art includes everything that is already known. That is why it is extremely important to apply for a patent for an innovation before making it public. Patent protection is generally granted for 20 years. With one exception for pharmaceutical products, it cannot be extended. (see also: Grüter/Zwick, The safe and inexpensive way to patent protection).
Design
Designs of products or parts of products which are characterized by name by the arrangement of lines, surfaces, contours or colors or by the material used can be protected as designs. A design must be new, it must have its own character (deep level of originality) and must not belong to the function of an object. Everything that is already known is not new. It is therefore crucial to submit a design before publishing it. A design is first registered for 5 years. Registration can be extended four times for a further 5 years, i.e. for a maximum of 25 years.
Territoriality principle
Copyright is valid worldwide without any action being taken. However, trademarks, patents and designs must be registered for each country for which they are to be protected (territoriality principle).
Don't forget company and domain name
In addition to the intellectual property portfolio, the protection of the company (name of the company) and the corresponding domain name are also added today. A company and/or a trademark can only be truly valuable if the company also owns the relevant domain name. With regard to Switzerland, the generic Top Level Domain (gTLD) ".swiss" should not be forgotten in addition to the Country Top Level Domain (cTLD) ".ch". The latter is likely to be of particular interest to companies that are also active abroad or in tourism.
Generic domain name vs. original brand – original company
A descriptive name cannot be registered as a trademark, but as a domain name. Descriptive names have the advantage that they can easily be found on search engines. Thus it can be today that a company prefers a company or a product name which cannot be protected by intellectual property rights, but which is advantageous for Internet searches.
Unfair competition law
Pursuant to Art. 3 para. 1 lit. d UCA, anyone who takes measures which are likely to cause confusion with the goods, works, services or business operations of another person is acting unfairly. This conduct includes in particular the copying and imitation of products. Art. 3 para. 1 lit. d UCA is therefore often applied as a supplement to the enforcement of intellectual property rights.
In addition, according to Art. 5 UCA, anyone who a) makes unauthorised use of a work result entrusted to him, such as offers, calculations or plans, b) makes use of a third party's work result, such as offers, calculations or plans, although he must know that it has been unauthorised or made available to him, or c) takes over and makes use of the marketable work result of another party without reasonable effort of his own by means of technical reproduction procedures as such, is acting unfairly. In my opinion, this article also includes the protection of Indeen, especially concepts that are presented to third parties, especially in the context of pitches (see Wikipedia: Agency Pitch).
It is important, however, that fair trading protection is not an alternative to intellectual property protection, as the facts of the Unfair Competition Act are generally difficult to grasp.
Enforcement of intellectual property rights
Both the Trademark Act and the Patent, Design and Copyright Act provide that intellectual property rights can be enforced in both civil and criminal proceedings. Both ways are of equal value. The aggrieved party is therefore free to choose.
If the infringer does not act commercially, the criminal law application period is three months (!); in patent law six months (Art. 81 Patent Act, PatA). If the infringer is acting commercially, it is even an official offence, which must be prosecuted by the office and therefore has no application deadline.
The costs that a plaintiff has to bear in civil proceedings, should he lose all or part of his claim, are calculated in relation to the so-called value in dispute, i.e. the value the matter has for the plaintiff. As it is usually difficult to measure the value of a dispute in an intellectual property lawsuit, the courts often apply a rule of thumb. If the value in dispute cannot really be calculated in an intellectual property lawsuit, the courts assume a value of at least CHF 50,000.00 to CHF 100,000.00 for insignificant intellectual property rights and a value of more than CHF 100,000.00 for significant intellectual property rights (see Johann Zürcher, Der Streitwert im Immaterialgüter- und Wettbewerbsrechtsprozess, sic! 7/2002 p. 493/504). This means that in an intellectual property civil action in which the value in dispute cannot actually be calculated, a value of at least CHF 50,000.00 is assumed. The Supreme Court of the Canton of Zurich publishes a fee calculator on its homepage (see https://bit.ly/2Gq4lKk). If you enter an amount in dispute of CHF 50,000.00, the result will be legal costs (court costs, costs of the counter lawyer) of around CHF 13,000.00. In addition, you will have to pay your own lawyer's fees. Thus, in this case there is a litigation cost risk of at least CHF 20,000.00. This is a very high amount, especially for an SME.
Especially for this cost reason, intellectual property rights can also be enforced in criminal proceedings. Even if the plaintiff also has to bear costs in criminal proceedings if he is defeated, experience shows that these costs are much lower. In addition, in criminal proceedings state coercive measures, such as house searches, can be used to obtain evidence and criminal proceedings usually exert high pressure on the other party, which means that the latter is more likely to be prepared to settle the matter amicably, i.e. within the framework of an agreement.
Attention! The fair trading law also provides for the choice of the special facts according to Art. 3 ff. of the Unfair Competition Act. UCA also provides for a choice between civil procedural or criminal procedural enforcement. However, an offence under unfair competition law is never an official offence. This means that the three-month application period always applies to enforcement in criminal proceedings (Art. 23 UCA).